Sara Kozak and James Sharper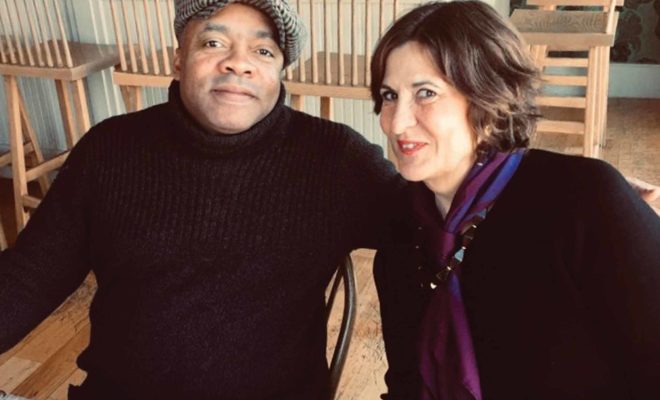 SS: So, your company recommended a studio rental in LTT when you first worked in NY? How long did you keep that apt?
S: I arrived from London on Sept 2nd, 2002; it was my first time in New York. I was working for the BBC and luckily one of our Execs knew London Terrace; she leased a studio in 405 for me for a year. I remember arriving in the building mid-evening and immediately throwing open the window to gaze out at 23rd Street; just across from me was the Moonstruck Diner, as it was. By 9pm I was at the Westside Tavern making new friends, and finished my first night at Chelsea Square. I was too excited to be bothered by jet lag and the time difference. New York and I had an instant love affair. Though I arrived with just two suitcases, I soon acquired a lot of stuff, and ended up renting a huge 16th floor Garden's C-Line studio. Gargoyles were my friends and I'll never forget the big liners on the Hudson. It was always magical to me.
SS: Then you bought in 2013?
S: From 2006-2012, I lived and worked in Washington DC – where James and I met – and when I came back to New York I was quite singular about where to live: "London Terrace, 23rd St, and above the south side of the street roof line." I couldn't have been luckier: 7E in 465 was for sale, so I didn't even look at another building or apartment; I knew in a heartbeat it had to mine. It needed a gut renovation, but within months it was a jewel of a studio.
SS: I know that you travel a great deal for work and that you and James have a home outside of the city.
S: I'm a Senior Vice President at Discovery Inc; specifically I head up Production at Investigation Discovery, the highly successful true crime network. A large part of our team based in Silver Spring, MD, so I'm on the Acela or AA Shuttle to DC very frequently. James is a bit of a Swiss Army knife but basically divides his time between creative direction and project management. He remembers Chelsea from the early '90s and still can't get over how much it's changed. Our country home is in Cold Spring, NY; that's where Rascal and Lally, our two rescue mutts, are happiest, and where I can indulge my very British love of gardening. We really have the best of both worlds.