Home, Hearth, and Family | Biscotti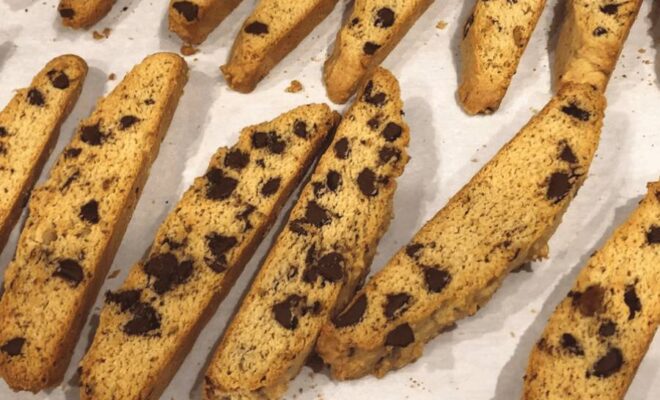 Cousin Denise baked biscotti with her son Louis using a published recipe but when I made them, my go-to was a variation made from a local book from the PTA. All biscotti are twice baked and there are several
varieties.
8 TBSP BUTTER
1 TSP BAKING SODA
½ C FRESH OJ
1 C SUGAR
1 TSP CINNAMON
1 C WALNUTS OR HAZELNUTS
2 C UNBLEACHED,
ALL-PURPOSE FLOUR
½ TSP SALT
Preheat oven to 350 F and lightly grease a cookie sheet.
Sift Dry ingredients together 3 times and set aside.
Cream the butter in a bowl with an electric mixer, adding the sugar gradually, beating well, then add the egg and continue to blend thoroughly.
Gradually add the sifted ingredients and OJ, and then fold in nuts.
Spread dough on the cookie sheet, forming a 9.5" x 5" loaf, then bake for 30 minutes (or until the dough is firm).
Lower oven temp to 300 F
Let cool for 5 minutes before slicing into 1" crosswise slices and place them back on the cookie sheet on their sides. Toast for 5 minutes on each side, then cool on a cookie rack.